---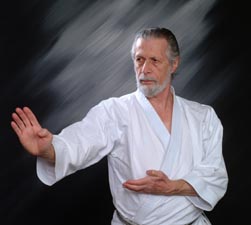 Sensei Robert Fusaro, who founded the Midwest Karate Association in 1958,
decided to branch out by opening a new studio (dojo) in 1975. When he first opened the doors to the St Paul dojo, things were very difficult. He didn't have a full-time instructor. Meanwhile,
there were very few students and lots of expenses. It was only through Sensei's b
elief in Shotokan karate and his willingness to sacrifice financially that the dojo survived these early days.
Sensei Fusaro found a full time instructor for the dojo, Mike Sandin, in 1976. With stable leadership the dojo finally started to develop a growing student membership. Mike began teaching just before he received his black belt. He attained his second degree black belt during his three years as chief instructor at the St Paul dojo. Mike left the dojo for other career pursuits in 1979.
One of the first students to train at the St Paul dojo was Anita Bendickson. She had started training at the Minneapolis dojo one month before the St Paul dojo opened. Since the St Paul location was closer to where she lived, she began to train there. Anita received her first degree black belt in 1979. As a student, and then as one of the instructors, she has been a part of the Midwest Karate Association of St Paul from the moment it began.
Joel Ertl had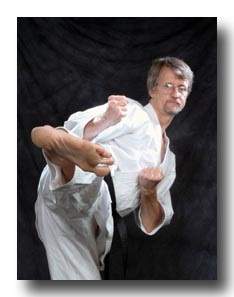 been the Chief Instructor for the Midwest Karate Association of St. Cloud for several years when Sensei Fusaro asked him to take over for Mike Sandin. Joel received his third degree black belt shortly after he arrived at the St Paul dojo in 1979. Under him, the class schedule was greatly expanded and the student membership grew quickly. In 1981 childrens classes were added, with Anita in charge of the program.
In 1980 Anita decided to teach full time and became a regular employee of Midwest Karate. Anita, together with Mary Brandl, developed a self-defense program around this time and began teaching courses in the community.
The close working relationship between Joel and Anita became even closer in 1982 when the couple were married.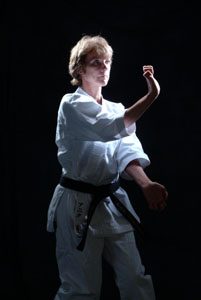 Their daughter, Meghan, was born in 1987. This has helped to develop a family oriented dojo with a friendly atmosphere.
Joel and Anita purchased the business aspect of the St Paul dojo in 1992. However, Sensei Fusaro still maintains the teaching standards, as well as giving rank examinations, as he has throughout all these years. Because Joel and Anita train regularly under Sensei Fusaro at the Minneapolis dojo, Sensei Fusaro is still very much responsible for the high level of instruction available at the St Paul dojo